Tenuta di Nozzole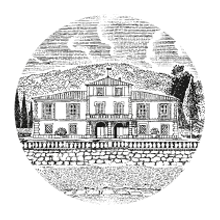 This farm, purchased by the Folonari family in 1971, dates back to 1300 and has 385 hectares of land, 90 of which are used for specialised vineyard cultivation and 15 of which are used for olive groves. The Tenuta di Nozzole estate is located in the town of Greve in Chianti, in the heart of the Chianti Classico production area and offers guided tours and the opportunity to taste wines from all of the Folonari estates.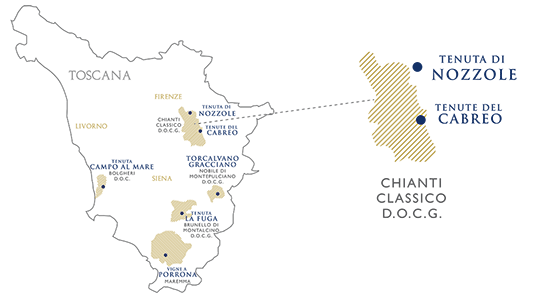 WINES
The home of Chianti
The estate produces Chianti Classico in the Annata, Riserva, Gran Selezione and Vin Santo versions. Sangiovese takes centre stage in Nozzole, expressing all of its potential and elegance in the area's unique ecosystem of Mediterranean scrub in the hills of Greve in Chianti. Alongside Chianti Classico, the estate also produces Le Bruniche Chardonnay and Pareto, the Super Tuscan icon of Cabernet Sauvignon varietal wine in Chianti.
VILLA DI NOZZOLE
A Paradise in the Heart of Chianti
Villa Nozzole is located in the heart of the Tenuta di Nozzole estate, owned by the Folonari family since 1971. The property dates back to the 17th century and reflects the Renaissance style of architecture; imposing but elegant, its south-west facing position offers a breathtaking view over the vineyards, olive groves and surrounding hills and the perfect setting in which to enjoy the magnificent sunsets.
The villa is located in a strategic position, just 15 minutes from Greve in Chianti and not far from other well-known places such as Florence, Pisa, Lucca, Siena and the surrounding areas.
Inside, it is decorated in a warm and cosy style, with elegant furnishings. Villa Nozzole is set over three floors housing nine double bedrooms, all en suite, large living areas, two professional kitchens, meeting rooms, a pool room and a garden with a panoramic swimming pool.
CASAVECCHIA DI NOZZOLE
A Luxury Villa in the Chianti Classico Region
Casavecchia di Nozzole is a detached farmhouse located on the Tenuta di Nozzole estate, in one of the most famous areas of Italian wine production in Tuscany. The house is surrounded by vineyards and occupies an ideal position for exploring the landscape and countless architectural treasures offered by the area. Set in a large garden with a private pool, it sleeps up to ten people and has a kitchen and a lounge with a fireplace.
For further information, please write to folonarivillas@gmail.com or francesca.folonari@gmail.com