Baia al Vento Bolgheri Superiore DOC falls within the Bolgheri appellation but belongs to the production logic of the Supertuscan wines, both as a blend, composed mainly by Merlot, and because it represents the highest oenological apex made by Ambrogio e Giovanni Folonari Tenute on Tenuta di Campo al Mare.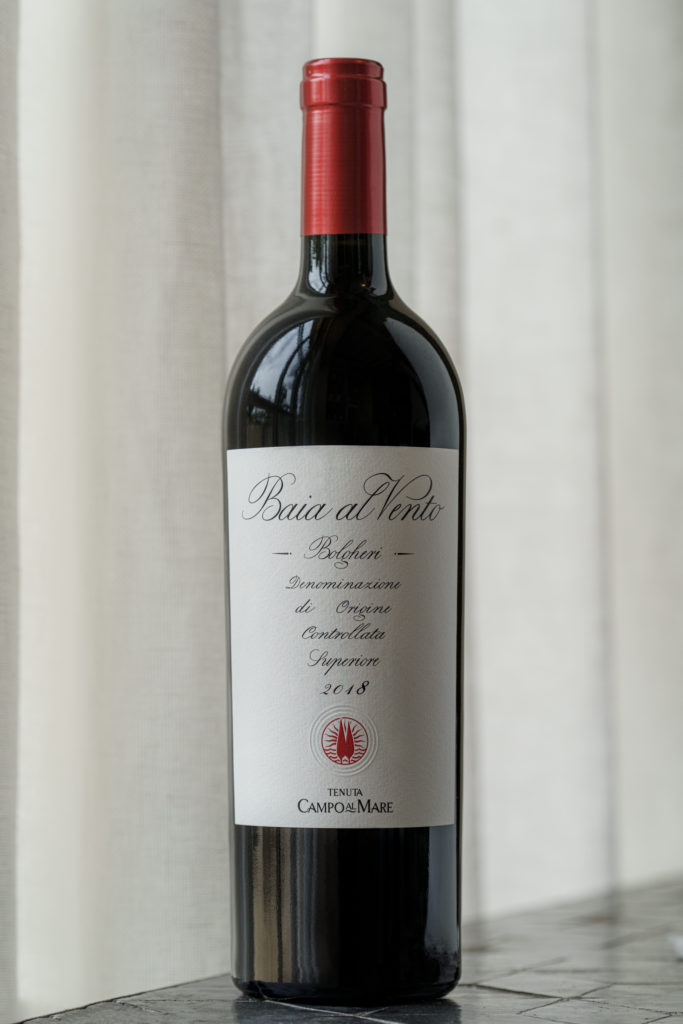 Terroir
It is a powerful wine, with a texture, a sensory profile, a reason for being that make it unique. The vineyards from which it is born are located a few metres above the sea level, upstream of the Bolgheri area, in the historically most suitable areas. Here, oenology does nothing but optimise an extreme viticulture, not in its criticalities but in its suitability, with the constant search for quality. For this reason, the production per hectare is carefully balanced according to the maximum peculiarity of the terroir.
The 2018 vintage
The 2018 vintage, after the very difficult one of 2017, brought the balance back to an ideal value with an extraordinarily normal trend that has not been seen for some time. The harvest was therefore adjusted to optimal times without environmental problems related to climatic adversities and thus "playing" with the perfect harvest time. Merlot is harvested when it reaches the right phenolic content, the optimal dry extract and the maximum sugar content. Afterwards, a very long fermentation was carried out, followed by a very short maturation and cleaning period in stainless tanks in November in order to remove the coarser lees. Finally, a very long period in toasted wood in a temperature-controlled barrel room to ensure that the wood has the best environment to exchange its peculiarities with wine and vice versa, interrupted by very few pourings. The result is a wine of great sensory strength but always elegant.
Baia al Vento Bolgheri Superiore 2018
Baia al Vento Bolgheri Superiore DOC 2018 is a sunny, strongly Mediterranean wine. A grape variety such as Merlot, with great capacity for accumulating oenological substances, in a balanced season and in a strongly sunny land, reveals the perfect sensory redundancy: licorice, thyme, wood aromas such as spices, tobacco, chocolate. The flavour is very textured, full-bodied, soft, never with excesses towards sweetness, always with very velvety and silky tannins and a balanced alcohol content that matches a great softness.
The 2018 vintage confirms Baia al Vento Bolgheri Superiore DOC as an extremely powerful wine, never excessive but always harmonious in its sensory completeness.